Top 7 Unique Ethical Gemstone Rings
Article by
Gemstones are becoming a popular option as the center stone for our right-hand and engagement rings, and we are delighted to explore the different styles for a unique look. At MiaDonna, we have stunning Lab-Grown Gemstones: Sapphires, Rubies, Emeralds, Padparadschas, and Alexandrites- all eye-catching ethical beauties to choose from, and any of our ring styles can be created using a gem for your center stone! Sapphires, the September birthstone, symbolize protection and good fortune. Rubies, the July birthstone, symbolize passion, energy, and success. Emeralds, the May birthstone, symbolize abundance and wisdom. And Alexandrites, the June birthstone, symbolize peace, hope, and calm. You don't have to choose your birthstone for your gemstone, you may just feel a certain stone speaks to you and it's the one you want to admire daily. In the end, choosing a unique ring is about how it makes you feel, and you are the one to create the meaning behind it.
The gemstones themselves are a unique option, but we also have some beautiful styles to make your ring stand out even more. Below we chose our favorite designs with the gemstone type we love to see in them.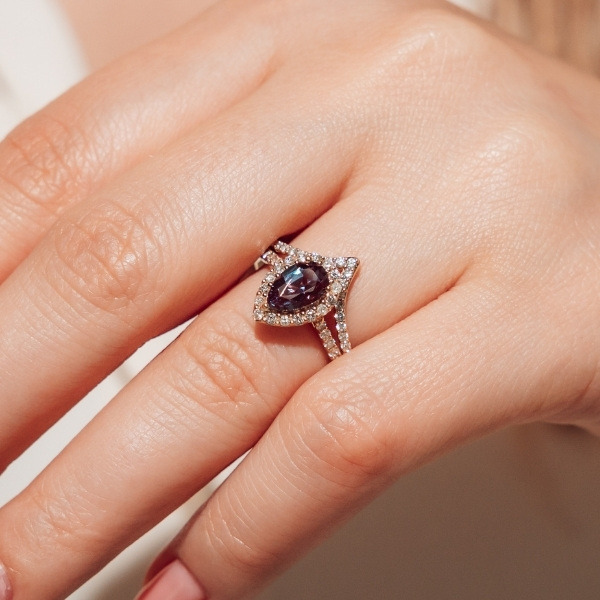 The Heroine with an Alexandrite center stone is our favorite. The Alexandrite is a fun stone that changes colors depending on the light. The halo of accenting recycled diamonds helps emphasize the rare center stone. The ring is shown here with the Deep V band.
Heroine Engagement Ring: Starting at $1,706
---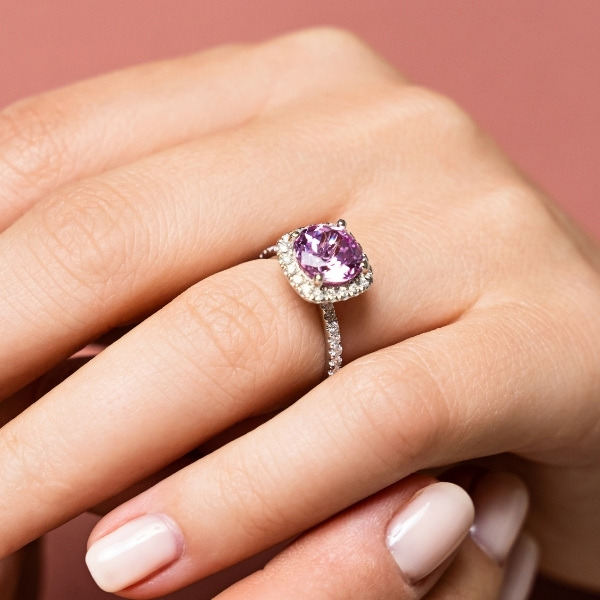 The Venetian is a petite cushion shaped halo set ring with recycled diamonds circling the center stone. The pink sapphire in this setting is feminine and elegant- get this style for an extra sparkly look!
Venetian Engagement Ring: Starting at $1,208
---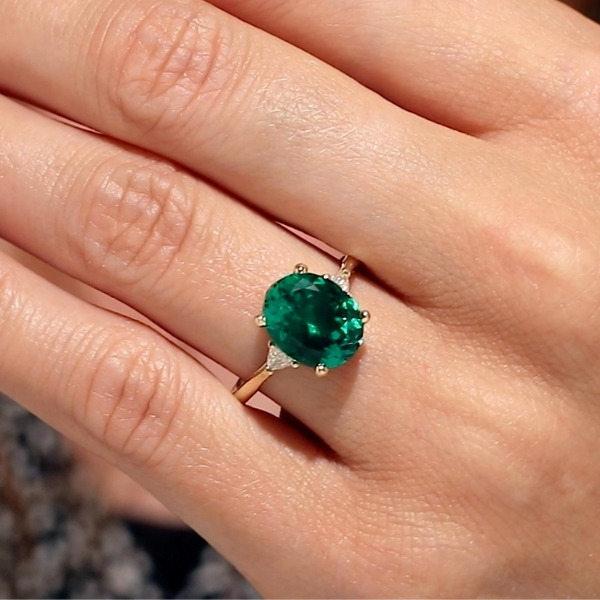 Get creative and design your own ring! Have emeralds on your mind? Browse different styles as inspiration and work with our designers to create your dream engagement ring.

 
---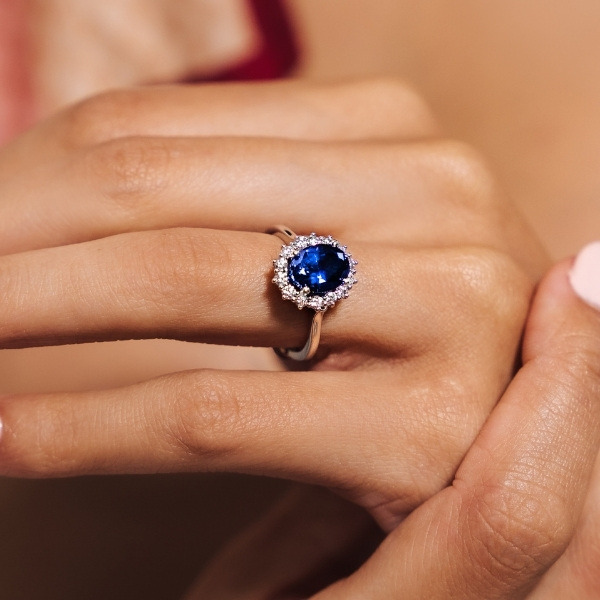 The Flora resembles the ring Princess Diana chose and this isn't the only reason we are drawn to it. The wonderful blue sapphire is brought to life by the encircling recycled diamonds!
Flora Engagement Ring: Starting at $1,929
---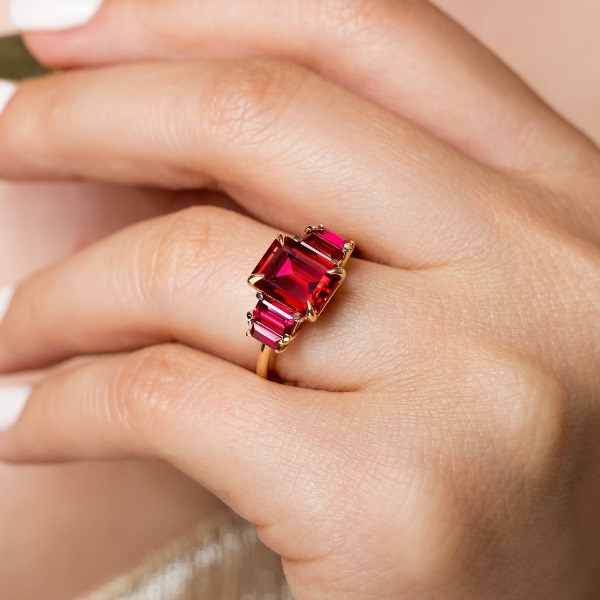 This custom designed ring stands out with these radiant emerald shaped rubies. Rubies symbolize passion and we feel this ring emulates just that. As an alternative, get a ruby center stone with lab-grown diamond side stones.
---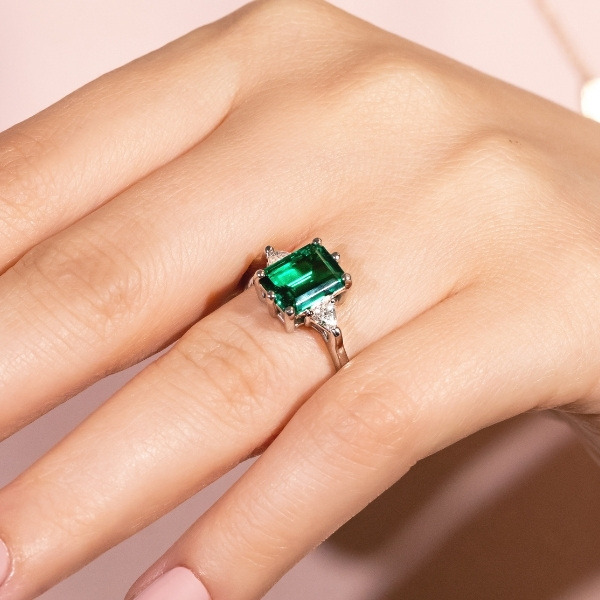 The Orchid features an emerald or radiant shape, which helps to elongate the fingers. We love this style with an emerald center stone- Cleopatra adorned herself with emeralds to attract wealth and power, and we are all about doing the same!
Orchid Engagement Ring: Starting at $1,433
---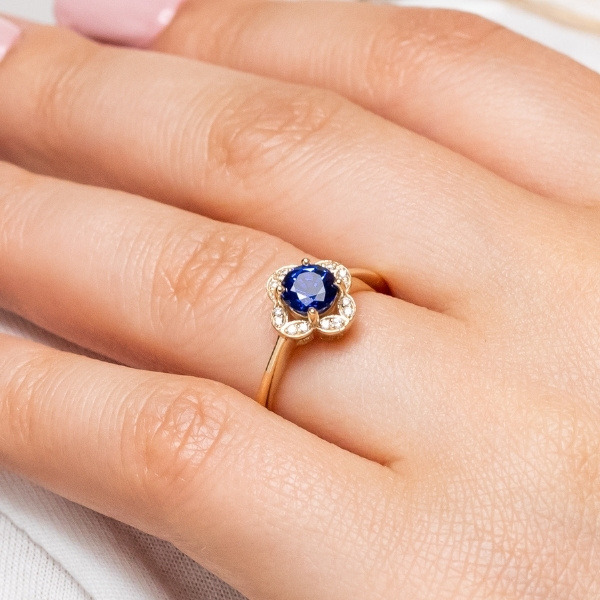 The Grace is an elegant vintage style that looks good with any gemstone center. We can't get enough of sapphires, and love to see the deep blue accentuated by the intricate detailing of the Grace setting.
Grace Engagement Ring: Starting at $1,037
When choosing your ethical ring, remember that you get to choose what your ring symbolizes for you. You could be getting a gorgeous lab grown emerald to celebrate success in your career or a lab grown alexandrite to celebrate moving into a new house. Maybe you've chosen a lab grown sapphire for the center stone of your engagement ring to symbolize the growing love in your relationship. Either way, we are here to help you build your dream ring and get something you are truly happy with. Please reach out to us with any questions!