Top 10 Trending Modern Engagement Rings in 2021
Article by
As you know, we like to do things a little differently at MiaDonna, so what's stopping our rebellious hearts from adding a twist to the traditional engagement ring? Well, nothing! A modern style is fun, sleek, and functional with a clean look. The majority of our modern styles are more sturdy and harder-wearing due to the fact that there are no small prongs that can get caught on clothing or other fabrics. Are you ready to dive in and get the spiel on modern engagement ring styles? We thought so.  
When hunting for an engagement ring you may be tempted to go with a simple solitaire, especially if you are shopping online. We are big fans of the traditional look, but if there is a little part of you that is looking for something different- lean into that instinct! Some of the rings featured here are still within the realm of traditional styles but with a little spunky attitude thrown in. In addition, if you have an active lifestyle, the bezel settings are a perfect option because your center stone is less at risk of knocking loose. So, with a modern ring, you can sweat and sparkle simultaneously without a worry in your mind.
Our lovely Brand Manager, Nicole, is a big enthusiast of our modern styles. Every day she rocks the Daci Engagement Ring as a right-hand ring, with a rose gold setting, and her reason for loving this ring is because the main focus is on the sparkle of her center stone. While some of the styles are sleek and minimalistic, other styles are bold and unique. We chose a variety of items we adore, there is even a turtle ring in here!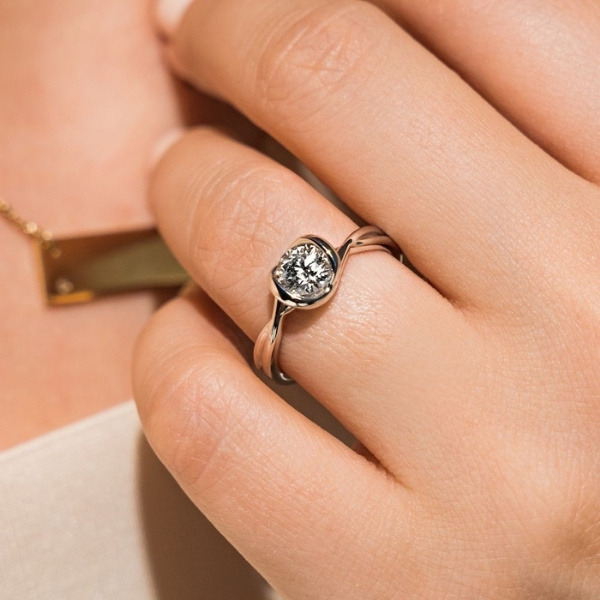 The Mod has an organic twist with a modern feel. Our Sales Manager, Justine, chose this ring as her favorite style, "It flows nicely, and has a unique bezel setting with a fun twist in the band." We agree!
Mod Engagement Ring: Starting at $597
---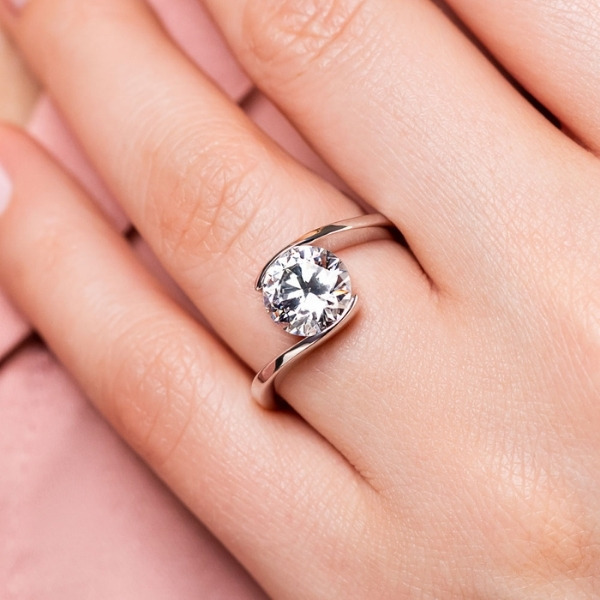 This ring is breathtaking with its modern twist on a traditional engagement ring! The twisted slender shank securely holds your choice of center stone in place, much like a tension setting, making it quite the show stopper.
Daci Solitaire Engagement Ring: Starting at $683
---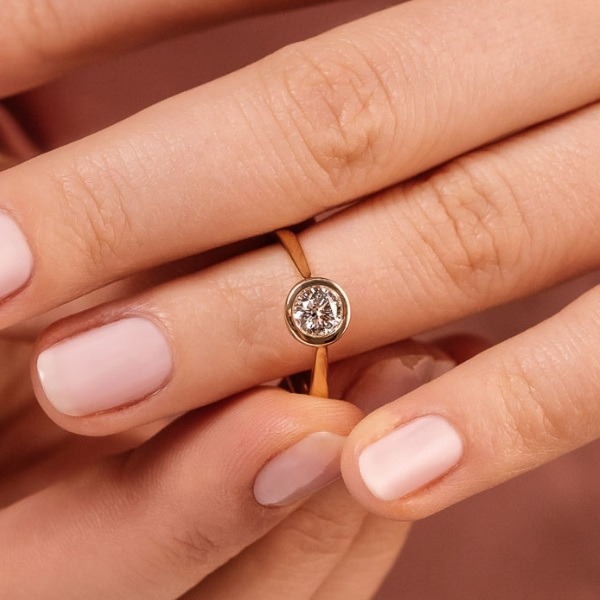 The Elsa is the perfect ring for active types! With a smooth low profile bezel setting your lab grown diamond will not go on a walkabout. This ring is my personal favorite, especially with a custom two-tone metal design.  
Elsa Solitaire Engagement Ring: Starting at $625
---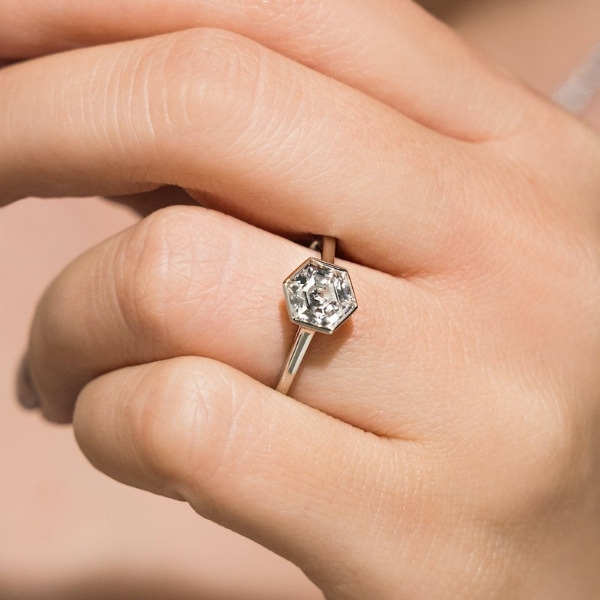 This is another great choice if you are an active person, with the low profile bezel setting holding your diamond securely. The founder of MiaDonna, Anna-Mieke, loves this ring for its sleek versatile design. Try it in an oval or pear cut!
---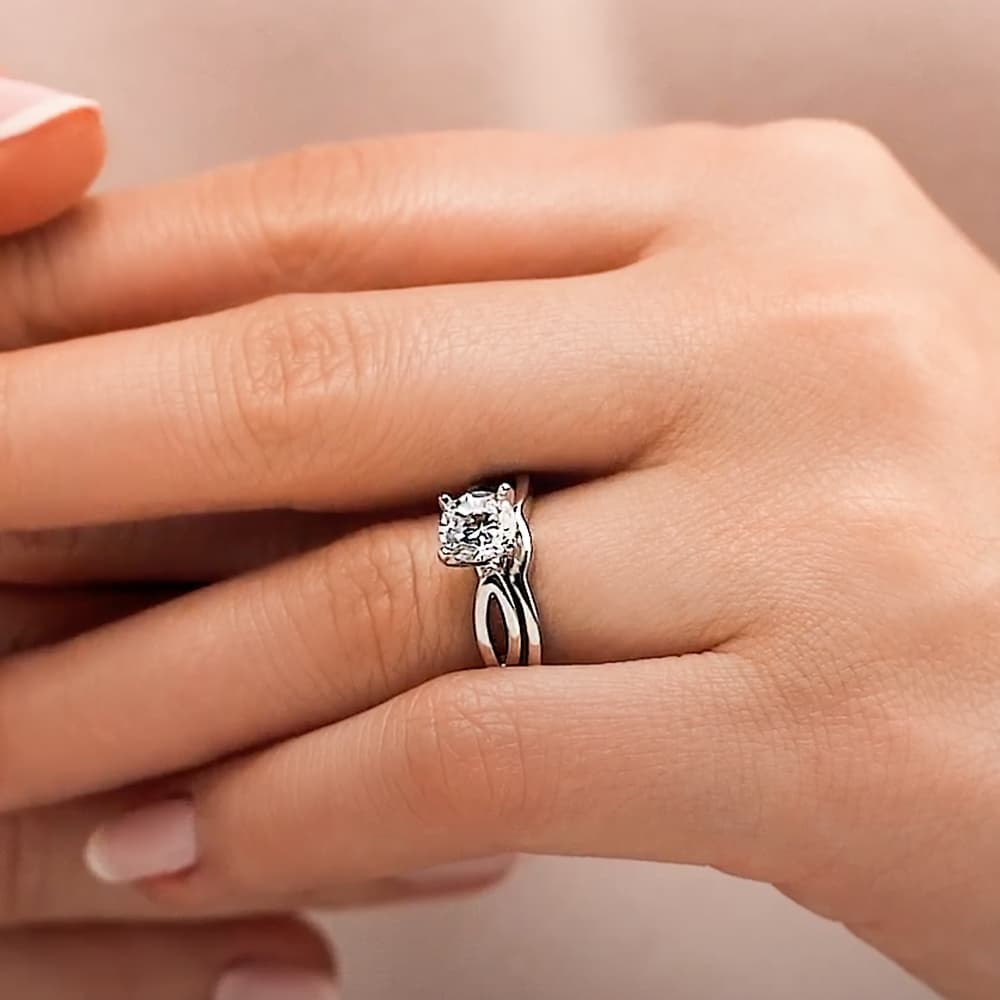 The Karina has a sturdy unique band with your choice of center stone in the middle of the infinity symbol! With a four-prong setting your center stone stands out. Perfect as a stand-alone ring.
---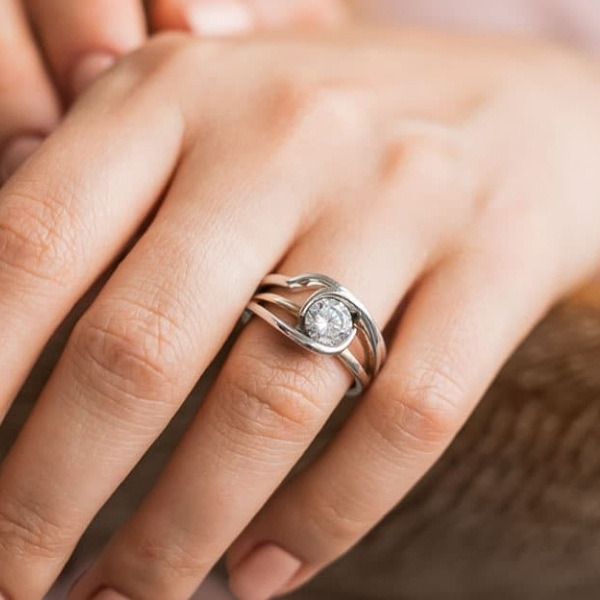 Your choice of center stone is firmly locked with the Hoyt's wrap-around bezel, split shank, two-tone band. If you want a subtle pop of color this is the modern style for you.
---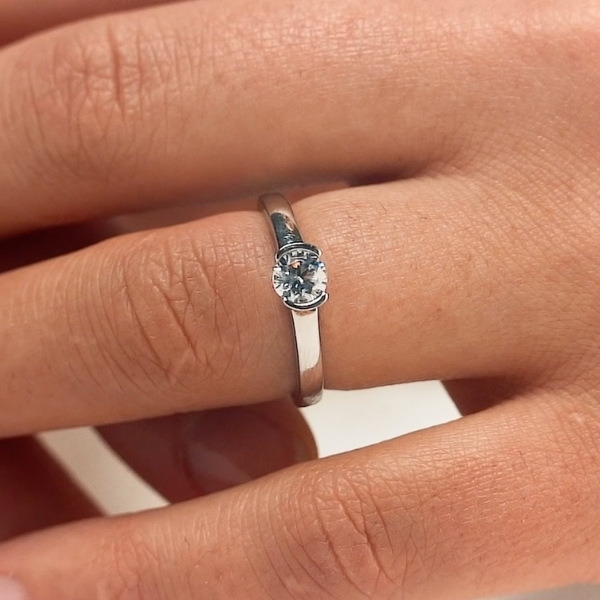 For those loving a thicker metal band, this is your ring. The half-bezel setting lets in enough light for the wonderful brilliance of your center stone to sparkle and dazzle. You can wear the Ambrose on all your active adventures knowing it is firmly secured and safe.  
---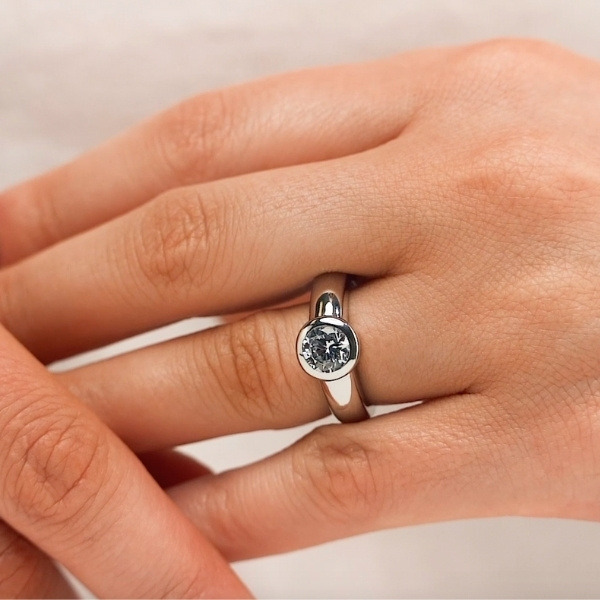 The primrose can join you on all your adventures with its fortress of a bezel setting! With a bold rounded shank design, your center stone is showcased beautifully. This ring is a one-piece casting meaning the shank will grow or shrink depending on the size of the center stone.
---
Featuring a princess cut center stone in a smooth bezel setting, the Bizet is sure to steal your heart. This ring has a sleek clean look while being completely functional for the sporty spirit.
---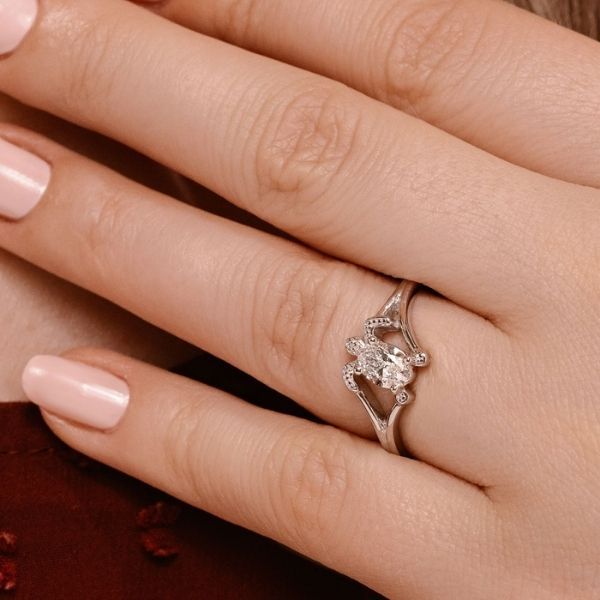 If you love the ocean this modern style may be the ring for you. With your choice of center stone being the shell you will feel the turtle's call. An emerald is my personal choice for the center stone in this adorable ring.
Our commitment to innovative and unconventional design is shown through our handcrafted contemporary engagement ring styles. We hope you enjoyed browsing our Modern Ring Style Guide, and if you have any more questions feel free to reach out to our personal shoppers! Also, if you have a modern design in mind that you don't see on our website, we can custom create your ring. What you dream we can bring to life. Learn more about designing your ring from scratch here.