Online Engagement Ring Shopping 101: The Complete Guide
Article by
It's easier than ever before to find the perfect ring without ever stepping foot in a jewelry store. At MiaDonna, we have worked hard to make online engagement ring shopping as simple as can be. With our home try-on program, ring sizer, 90-day resizing, and 30-day return policy, you are guaranteed to get the ring of your dreams, all from the comfort of your home! If you can't make it into the store it's not a problem. You will have a comparable experience virtually.
What is the home try-on program?
Our home try-on program helps you narrow down your selection between your favorite styles. Maybe you are completely stumped on whether you want a traditional or vintage style. And even with that, there are a couple of vintage styles you can't stop staring at, but you also feel so curious what a minimalistic ring would feel like on your hand! Luckily, this is all solved by our program where we send you four gorgeous samples for you to try on at home, take photos, see how you feel, and really assess what you want. Some of us introverts would prefer doing pretty much everything from the comfort of our home, if possible. Well, now it's possible! On the other hand, maybe it's not so much that you don't want to leave your couch, maybe you just love MiaDonna, and you want to support our cause and are determined to find the perfect ring from wherever you live. In either case, the process is easy breezy.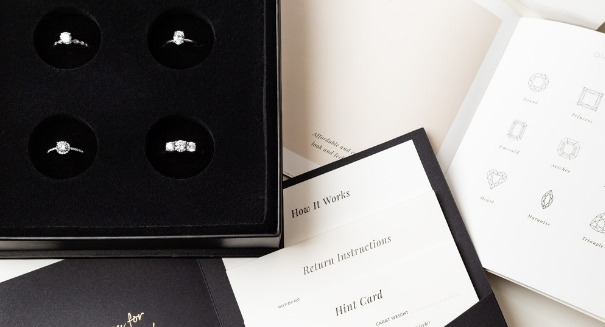 Before I dive into how it works I will first mention that the home try-on program is 100% free! We charge a $100 security fee that is fully refunded once your package is returned and received in our store. You have nothing to lose! So, here's how it works:
You select four of your favorite designs from our home try-on collection.

Your package ships free via USPS First Class Mail and will arrive to you within 1-3 business days.

You get 7 days with the beauties you selected. Try on, take photos, and show off to friends and family!

On the 7th day of your trial, using the pre-paid return label provided, you can drop off the package at your nearest USPS office. We get the rings back and return your deposit.
After returning your sample rings to us, you can shop MiaDonna online and build your dream ring! But if not, that's okay, there is absolutely no obligation. The home try-on is designed to help you narrow down the style you want to go for.
I already have a strong idea of what I want!
In some cases, the home try-on isn't necessary because you've already been dreaming about the same ring for months now. Some of us see the right ring and we just know. I will reveal the ring I've been dreaming of- the Amore with a round lab grown diamond set in yellow gold. It's the one! If this is you, and you already know the ring you want to build, then you can view the ring in various styles on our site or Instagram. If you know the style but you can't find it, for instance, with rose gold, and you would really like to see a photo first- reach out to us! We may have a photo or video of that exact ring. If not, we may have a ring that is very similar in style and we can send you photos to see how you like it. Building a ring is supposed to be fun, and there should be no fear in the process. You are not stuck with the ring. If you receive it and something isn't right, or you decided you wish you had gone with a different metal type, you have 30 days to return the ring! We want you to be ecstatic with your choice.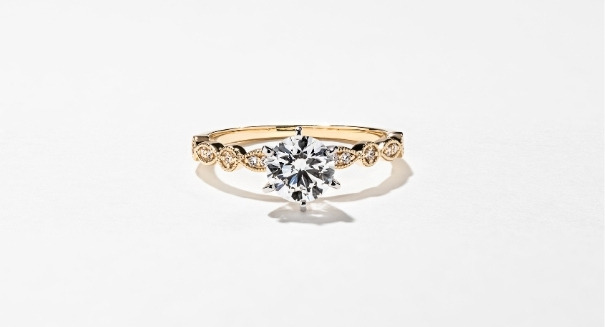 Virtual appointments are very helpful when online shopping, and they can be made through our website. Using an ipad we bring you to our showroom. We show you various styles you are interested in, and can answer all your questions! Choose your video platform-we are happy to chat over Zoom, Google, or Facetime! If you have an idea of what you are hoping for we can have everything ready before the appointment. If not, it's no problem, the appointments are in 1 hour blocks so there is ample time to consider different items. Also, when booking your virtual appointment, keep in mind that our time zone is PST.
When building your ring, there are many different variations to each style. Changing the center stone and metal type can make a ring style look like a completely different ring. Knowing what shape you want, carat, and what type of center stone are helpful places to start. As you can see the Grace photographed below changes character with each variation.
We recommend finding out your exact ring size so your ring doesn't need to be resized. The best way to do this is to use our ring sizer, which gives you an exact measurement. With our free two-day shipping you'll get it in the mail quickly to make a swift decision on a dream purchase. It's also handy to have in the house for any future ring purchases- like wedding bands and stackables for different fingers. Reach out to our personal shoppers to purchase one! Alternatively, your ring size can be measured at any jeweler. If you get your ring and it doesn't quite fit as you hoped, it's an easy fix! We have complimentary 90-day resizing to one full ring size either way. This is a ring you will be wearing for the rest of your life-it's important it feels right.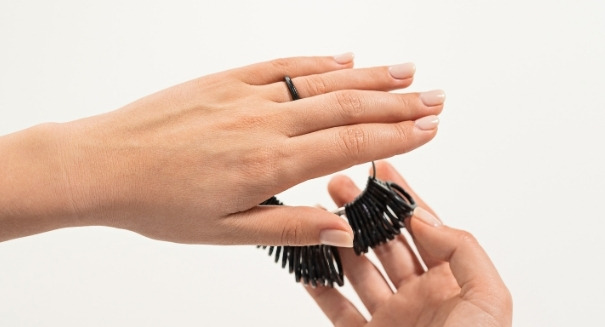 Working with our sales staff is the best way to go if you have any doubts in your mind. Or even to get confirmation of what you are already thinking of buying. They ask helpful questions you may not have considered, and they are so knowledgeable about every product. A few reviews from our website show just how accommodating our sales team are:
"Asked a few questions and made a request for photos of a stone on a certain setting, reply was super fast and kind in words. Very helpful communications from the sales reps. Can't wait to see her face when I present her with this gorgeous ring!" -Tyler W
"The customer service with MiaDonna is just amazing. The first wedding band that was created didn't fit the engagement ring I had, Shelby requested a new casting. I love this level of customer service. The wedding band fits with my engagement ring so well and looks amazing!" -Jennifer S
What if I'm buying the ring as a surprise?
First things first, you'll want to know their exact ring size. One of the factors that make this difficult is that a lot of people don't wear jewelry on the ring finger. If they do, you have an in. When they take off that particular piece measure the inside of the ring with a string. Only measure a ring they wear on that finger. Our fingers are all different sizes, so what works on a pointer finger might not fit on the ring finger.
The best way to measure someone's ring finger, if you don't want them to know, is while they are asleep. If they happen to wake up you can just pretend you were getting a spider off of them. They'll be so mortified by the thought of the spider that they won't second guess what you were actually doing, and you'll be a hero! Win-win. If your partner falls asleep on the couch after a long day, this might be your opportunity to do the measuring. Remember to measure the correct finger—the left hand, second finger next to the pinky! Grab a small string of some kind and lightly wrap it around the base of her finger. When you pull it away, mark the length of the string with a piece of tape or marker. Now measure the string, and this is about the most accurate you can get without tranquilizing them and taking them to the jeweler.
Another way is to ask one of your partner's close friends if they know your beloved's ring size. Maybe get them to go shopping together and see if they can figure it out organically. That is also a good way to get an idea of styles they may like. You can also scope out their Pinterest to see if they've saved any jewelry pins. Then you can get a better idea of what their dream ring is. The only risk is the friend could possibly blow the surprise. That's no fun. Be sure you can trust this person.
Have the exact ring in mind, but don't see it on our site?
What you dream, we can make. It doesn't matter if you scribbled a ring idea on a napkin after your second glass of wine at happy hour, or you are a Photoshop wizard and have every detail noted. Our designers are experts. They can make any ring you want, quite literally. They have been doing this a long time, you will be involved in every decision along the way.
Based on what you tell us you would like, we create a digital illustration using computer-aided design (CAD). The CAD is then sent to you for review and approved via email. At that stage, you'll have the opportunity to make adjustments to the design before it is handcrafted! We go through each stage with your approval so any change can be made early on. Designing your own engagement ring is so fun! Anything goes!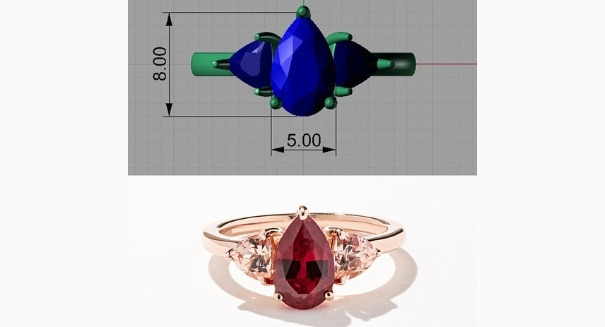 With technology, we've come a long way in the jewelry world to the point where you can get the right gorgeous piece you've always longed for without leaving the house. We are pretty excited about what we can achieve with the help of our home try-on program, videos, custom designing, and virtual appointments.
Thank you for choosing MiaDonna to shop for your jewelry. It is because of you that we are able to reach our goals of empowering the community and work towards a more sustainable planet. We have a lot we want to accomplish with our foundation, The Greener Diamond, and the support from you and our #MiaDonnaHeroes is what makes it possible!