How To Plan A Socially Distant Wedding
Article by
In the era of COVID-19, it's easy to throw in the towel and give up on the idea of having the wedding of your dreams. However, it's not impossible to plan a memorable and beautiful wedding ceremony despite having to socially distance guests and be mindful of the times in which we are living. Don't shelve your dreams just because of the situation. Instead, get creative! Here are a few suggestions for creating a socially distant day you'll love.
The weather is great, the sun is out, why not have your wedding outside? There's something romantic about having an outside wedding, and there are endless venues to pick from, including beautiful farms under a tree, an amazing vineyard, garden, or even the courtyard or yard of a pretty house or museum. Consider a park with a stunning gazebo or a friend's huge backyard. The possibilities are endless! If it's hot, have the ceremony at dusk and the reception in the evening with lots of twinkle lights. Gorgeous!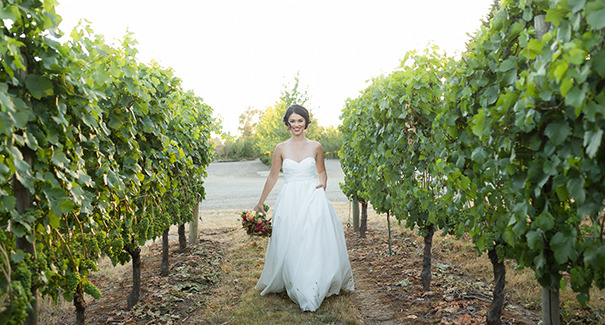 Photo Credit: Shannon Hager
Instead of big tables that seat 10 guests, pare it down to 4 per table, or seat by family/group. Keep things cozy and small, with only a handful of guests at a table, and give each guest plenty of space. This will create a sweet ambiance and allow for conversation with ease. You can even change up seating, and instead of tables, use lined-up seats with spaces between them or vintage benches.
Instead of a buffet spread, prepare mini plates of tapas for each person to enjoy. This limits the contact on serving ware and dishes. Another idea is to create a family-style situation at each small table so serving is limited to that table. Why not opt for grab-and-go boxed meals for your attendees? Get creative and have fun with it. Your guests will understand and appreciate your creative approach to safely serving food at your reception.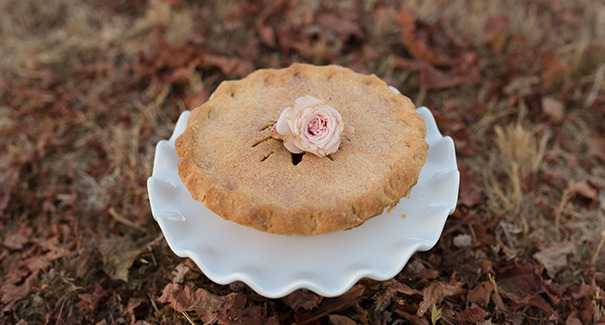 It may be hard for everyone to attend with the guidelines and restrictions in place, not to mention your guests' health conditions. You don't want your grandmother to miss your wedding day, but she may need to stay quarantined so let her watch online. Make sure you livestream your big day so everyone can see it and nobody misses a second, especially guests that live far away.
Instead of having everyone use a single pen to sign your guest book, set up a photo booth instead and let guests take photos so you'll know who was there. There are even apps you can download that will allow you to create a virtual guest book that you can have printed up when you desire. You'll have lots of fun pictures and never forget your special day.
It's an old tradition for guests to walk by the newly minted bride and groom and give them a hug and well-wishes. Instead, have guests drive by you and your spouse and wave to wish you well or drop off gifts and cards at a specific location. You'll still get to see your friends and family members without coming into direct contact, and they won't miss the joy on your face on the big day!
Be Creative While Staying Safe

Know that you need to do what you can to keep guests safe. This may mean you'll pass out masks as party favors instead of more traditional small gifts and include hand sanitizer setups throughout the space. Be mindful of including special seating for vulnerable guests, so they feel safe attending.
With MiaDonna's Home Try-On Program the store comes to you. Select 4 styles to try on in the comfort of your own home for 7 days. Each ring is thoroughly cleaned and sanitized before being sent so you can feel confident wearing them. Take photos, show your friends and fall in love with the ring of your dreams. If you have questions, you can reach one of our personal shoppers via chat, phone, or email. Don't worry, if you still want to look at more styles or see the diamonds up close, you can schedule a virtual appointment with Skype, Facetime, or Google Hangout.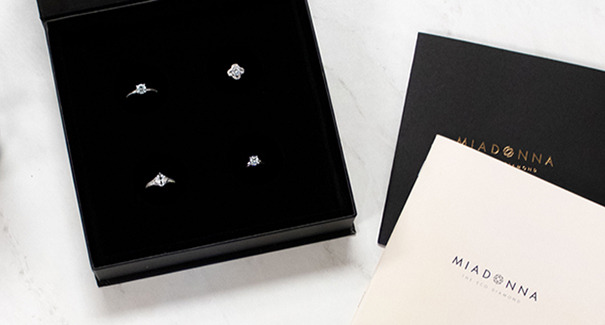 When it comes to your dress, you may not be able to go from store to store with your bridesmaids in tow. Take one friend or family member and make appointments at your favorite stores so you can spend time trying on dresses. Show off your picks over video chat to your bridesmaids and other family members. Or, share your favorite picks online and pick a dress over the internet if you feel comfortable doing that!
Hire Florists and Decorators Online

Do everything online that you would have done in person. Many florists and other wedding personnel now have the ability to show you what they can do with virtual appointments. This allows you to skip in-person visits and do as much as you can through video chat.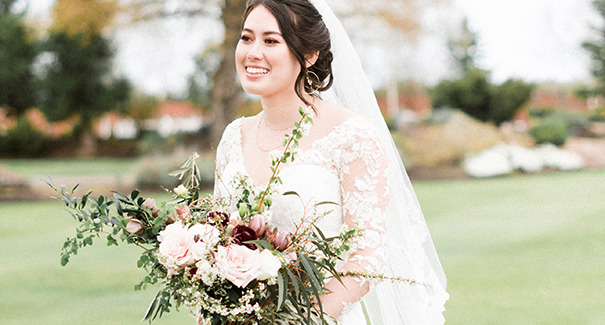 Photo Credit: Anne Blodgett
This is possibly the most important thing to keep in mind. Your wedding won't look like it would have before the virus, and that's okay. As long as you go with the flow and realize that you will have to change things to accommodate safety, you'll be fine. You can still have a wonderful day. However, if things still seem too complicated, also know that you can still reschedule your big day if you really want to, but there may be lost deposits and other consequences of this decision.
Banner Image Photo Credit: Jennifer Amina