There's a few items every woman needs to have in her wardrobe - and one of those is a pair of classic diamond stud earrings, with lab grown diamonds, of course. Here's some information to help you on your way to choosing the perfect pair of earrings for yourself or a loved one.
Prong Stud Earring - Basket Stud & Martini Stud - Prong settings are typically what you think of when you think of a stud earring. They are usually 4 prongs (basket) or 3 prongs (martini), and while they can hold any shape, Round is the most common. They are preferred for the minimal amount of metal that is used, which really allows the center diamonds to shine!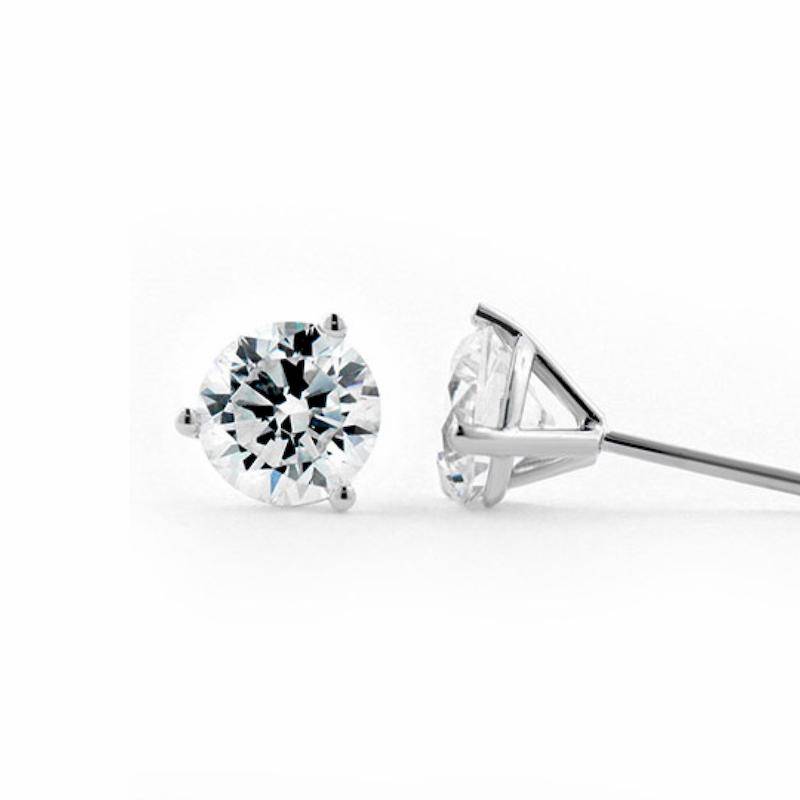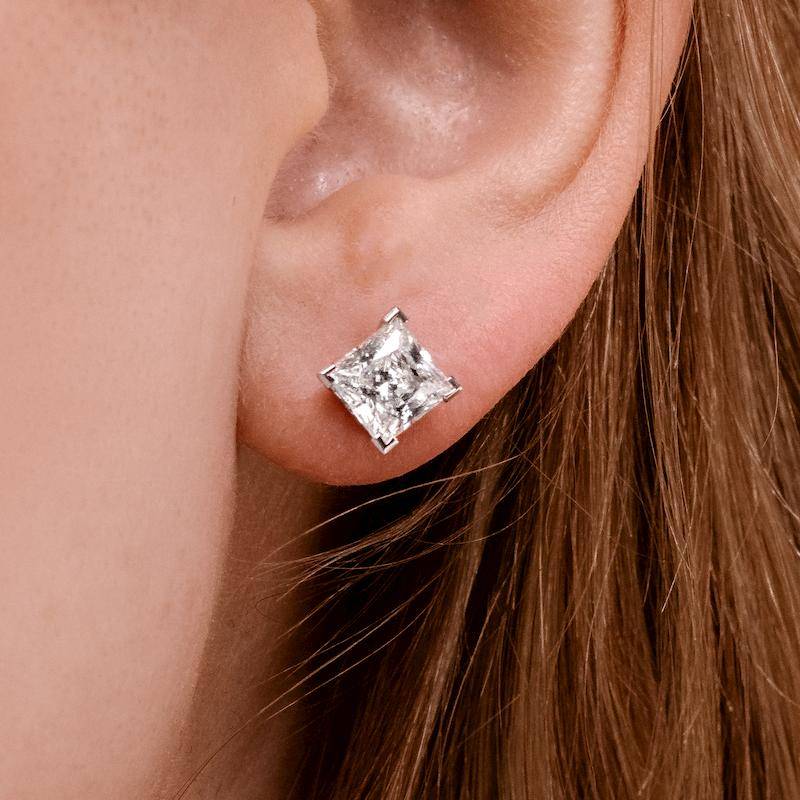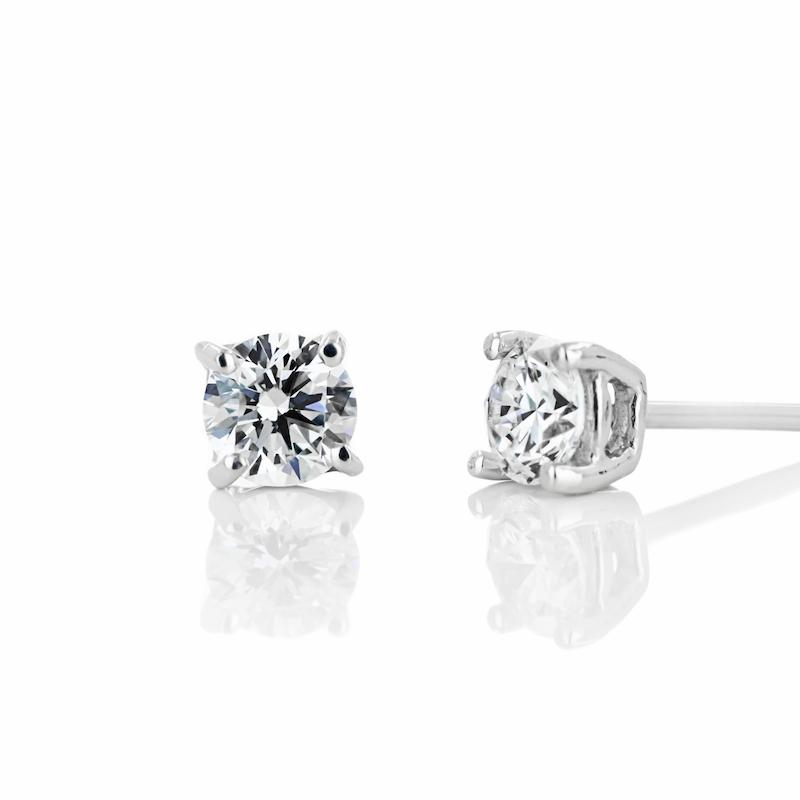 Halo Stud Earring - A halo style features a center stone, with diamonds all around it. The nice thing about this style is that you can choose smaller center diamonds and still get the look of a larger one when they are set in a halo. The stud earring itself costs more than the prong or bezel stud, but you can save more with the smaller center stones!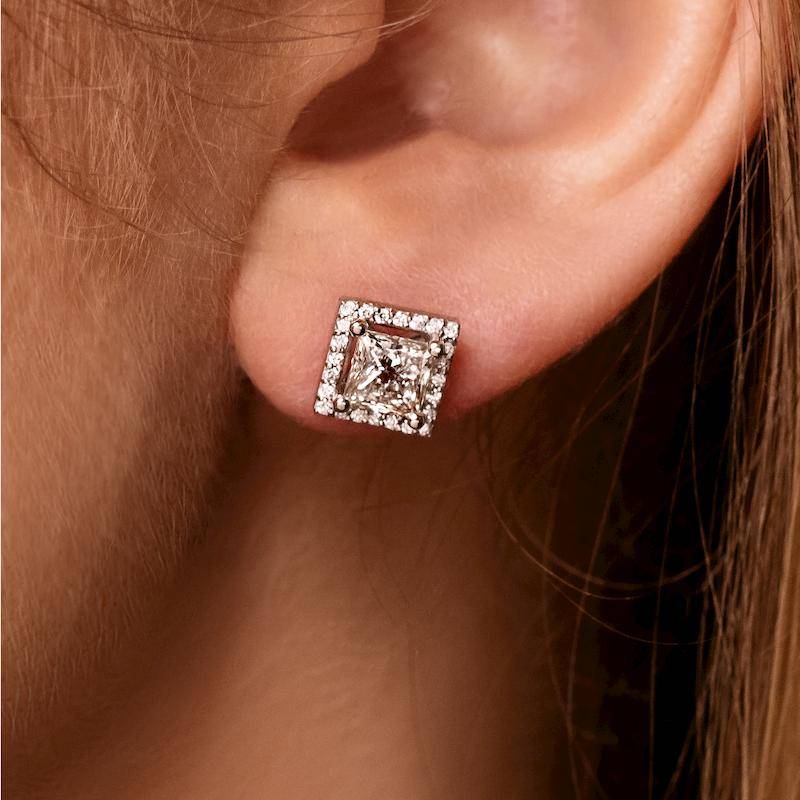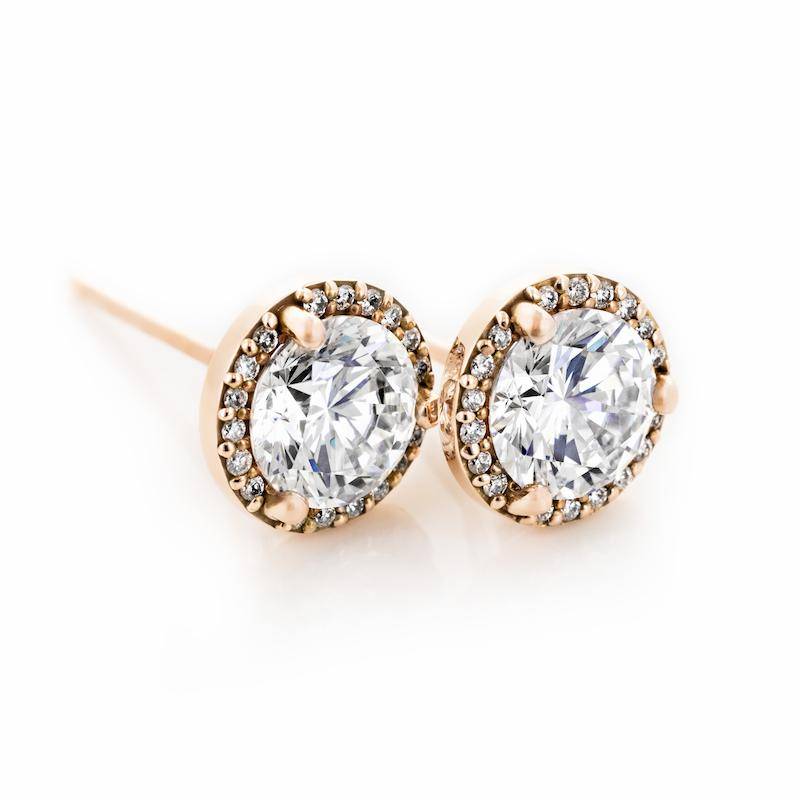 Bezel Stud Earring - A bezel stud has a single stone set with a rim of metal surrounding it - this creates more of a modern look, and is a very secure and protective style of setting. The only drawback to the bezel is that it allows the least amount of light to get to the diamond, so it is not as suitable for small diamond sizes.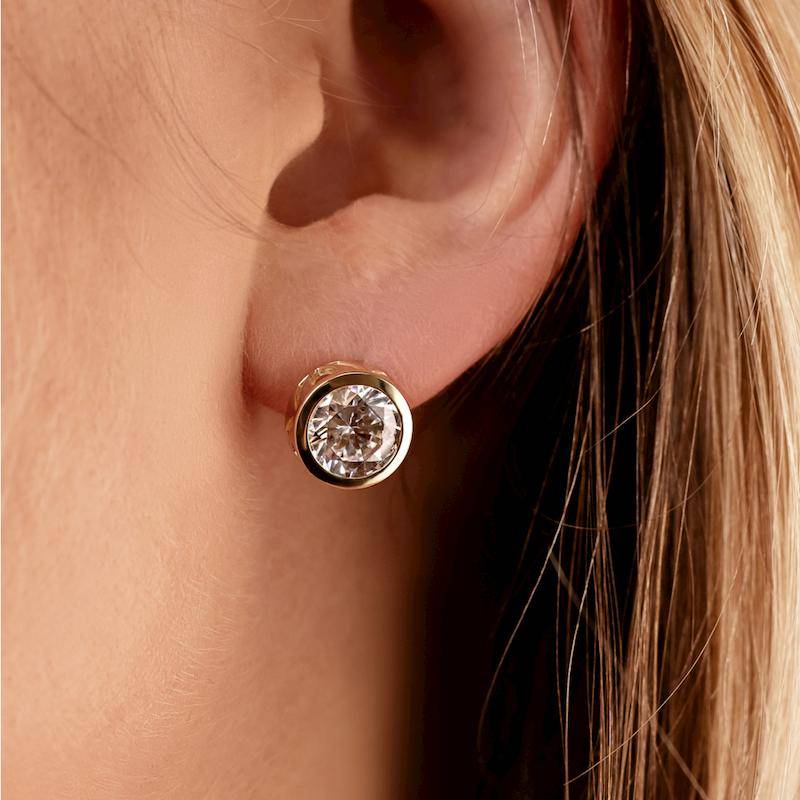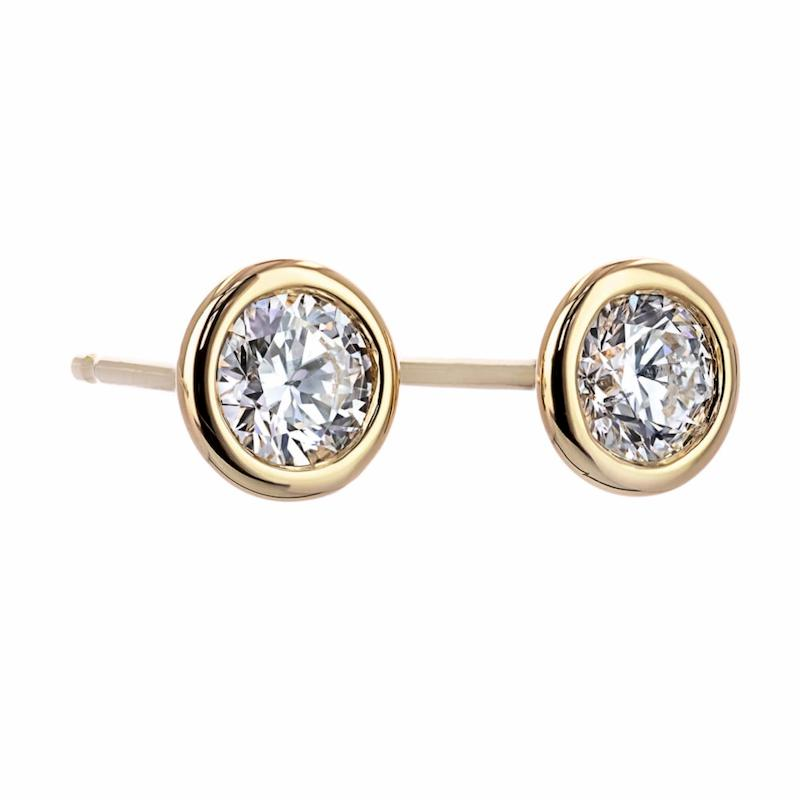 When choosing the color, clarity and cut on your earrings you do not need to be as strict as you were with your engagement ring. This is because earrings are viewed at a distance, so flaws are nearly impossible to see. Quality is still important, because you'll want the earrings to shine, but here are some recommendations for quality standards you should look for.
Color - We recommend staying in the H-J color range. You can go higher or lower, but stones in this range will appear colorless without the price tag of a higher color. Keep in mind that you do not have to match your diamonds exactly for earrings; typically anything within 2 color grades will look matching to the naked eye.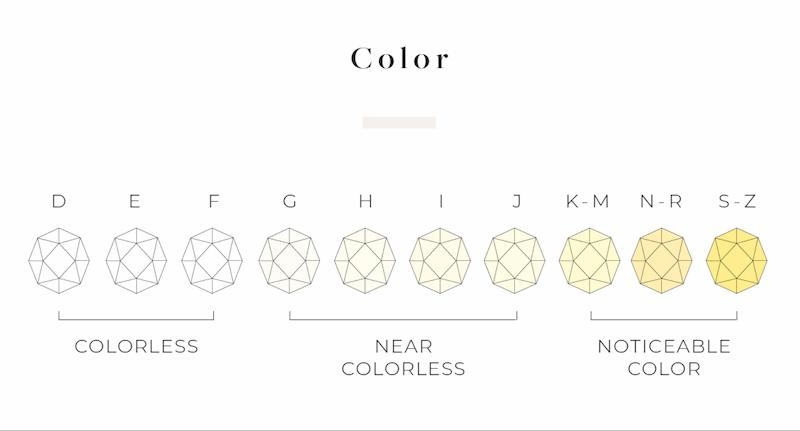 Clarity - Inclusions, unless large, will be nearly impossible to see when earrings are being worn. We recommend looking for VS2-I1, and just like with color you don't have to match the clarities exactly.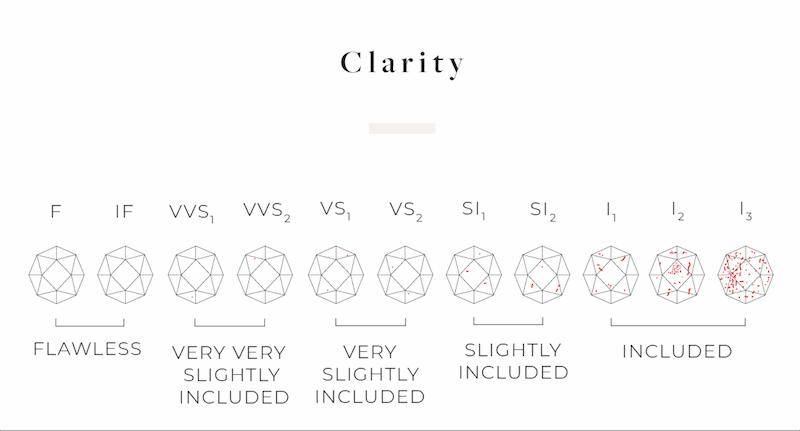 Cut - The cut is what dictates the sparkle/shine of the stone, which is important in a pair of studs. Stick with a cut grade of Very Good or higher; and just like with color & clarity, the cut grades do not have to be identical.
We often get asked by customers what size/carat they should choose for their stud earrings - while there is no "good" or "bad" size, we typically recommend starting no smaller than 1.0ctw, which is 0.50ct each earring. If you are purchasing for a child or if this is the first pair of earrings someone has worn, you may want to go even smaller - around 0.50ctw or 0.25ct each earring. If you are going large, keep in mind that the bigger you go the heavier the earring gets, so you'll want to consider a larger earring back to help prevent sagging on the earlobe.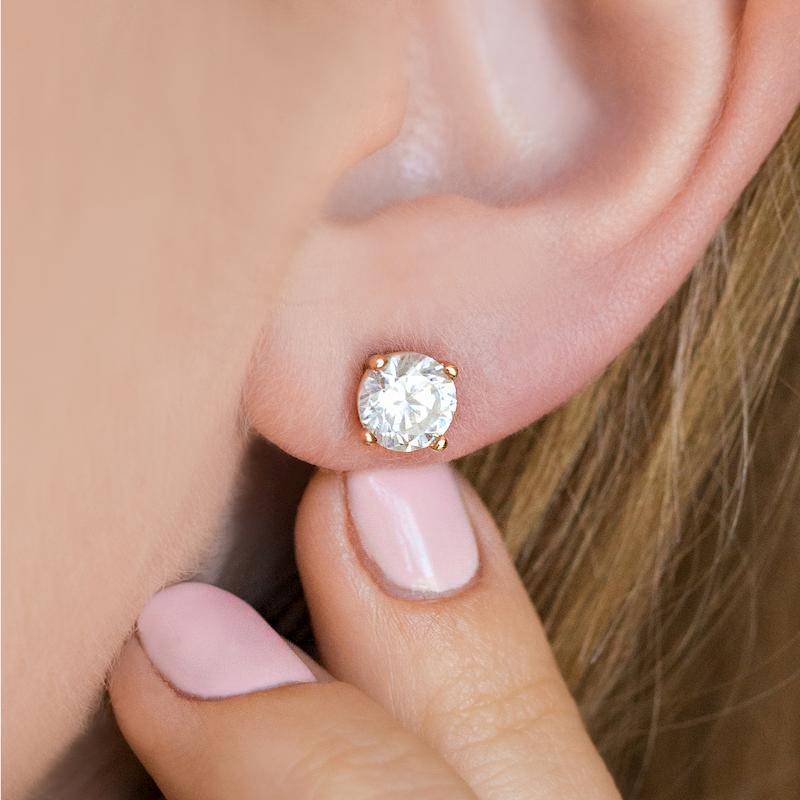 When budgeting for a pair of studs, keep in mind that unlike your engagement ring you are purchasing two diamonds, not one. Typically the price for a pair of studs around 1.0ctw in size is going to be no lower than $1,000, and the average cost is closer to $1,500. As you go up in size, use our earring builder to experiment with different qualities to see how it affects the total price. A great perk of purchasing with MiaDonna is that whatever you spend now, you can get credited back through our diamond upgrade program if you choose to go larger, or higher quality in the future! See below for more information.
We offer two different kinds of earring backs - a push back (also called a friction back), or screw back (also called a threaded post). All of our earrings come standard with a push back unless otherwise noted.
Push Back - These backs are the most common type of earring back used, and easily push on and pull off. They have a small notch at the end of the post to prevent them from sliding off while you are wearing the earrings. This type of back is quite secure, but you may want to consider replacing them if you notice them sliding on or off too easily.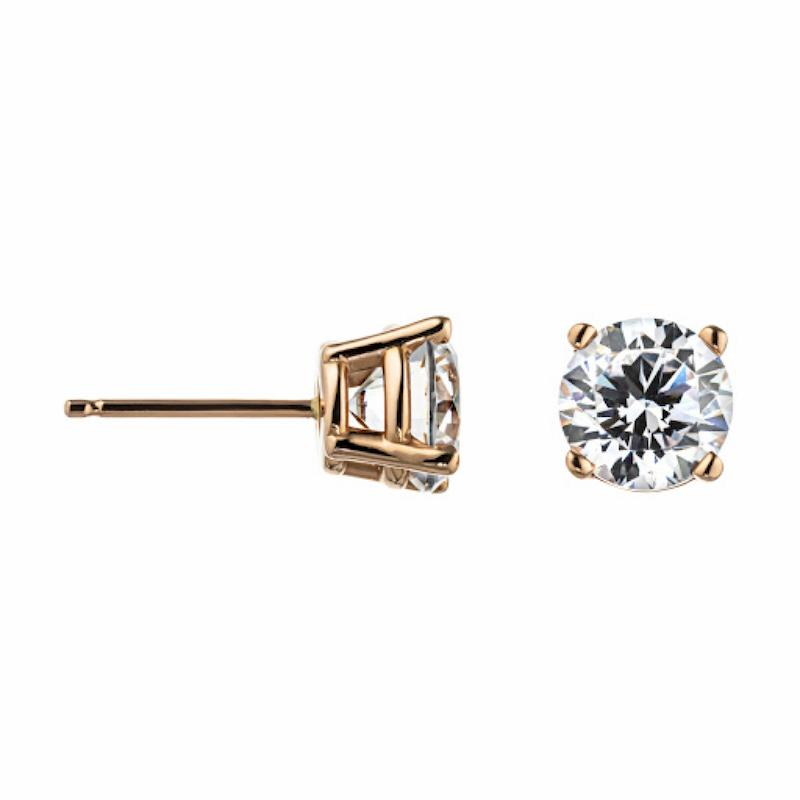 Screw Back - For earrings of high value, a screw back is often recommended. They are difficult to put on and remove, which makes them one of the most secure types of backs. If you notice them screwing on and off easily or any looseness, you may want to consider replacing them for the security of the earring.
As your full-service jeweler, we've created our lab grown diamond stud upgrade program with you, and your future, in mind. Purchase your perfect carat size now, and trade them in for a larger size or higher quality when you're ready. You'll receive full credit for the purchase price to be applied to the new pair, as long as there is at least a $1.00 increase in the price. It's that easy! Learn more about the lab grown diamond upgrade program.
Start designing your stud earrings today!